Transforming coffee pulp to compost
Circularity in Costa Rica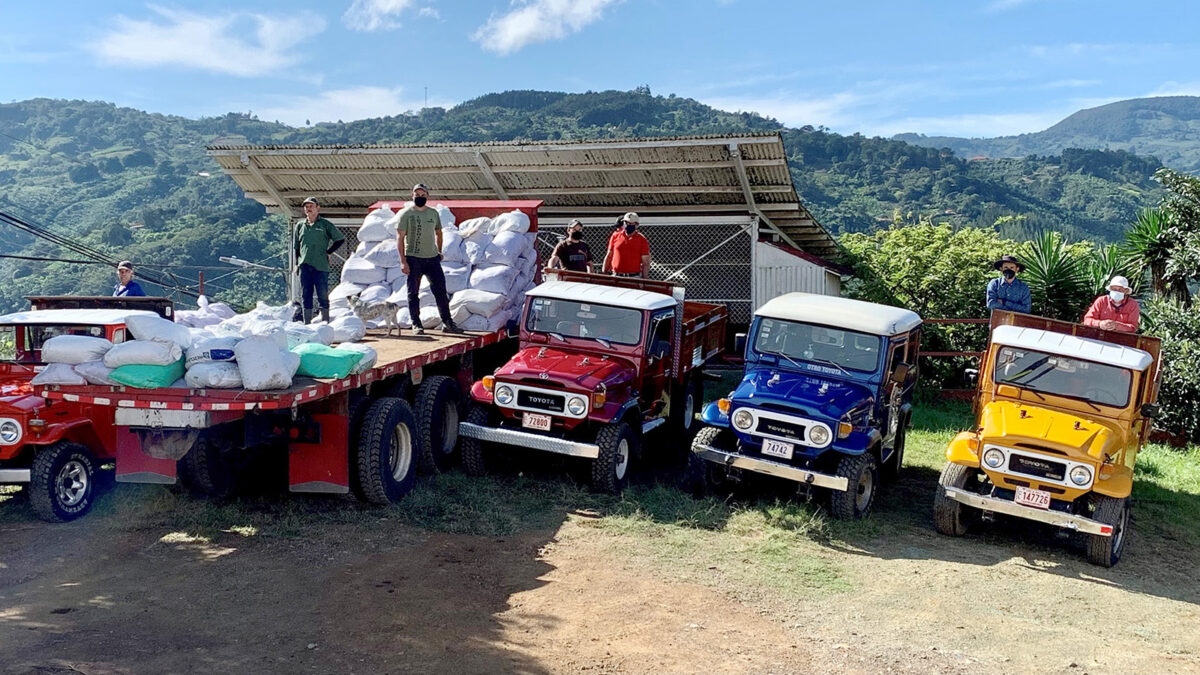 Farmers from the Llano de los Angeles community pick up compost in their perfectly maintained Toyota Land Cruisers, the traditional vehicle of choice for coffee farming in Costa Rica. Image: Volcafe in Costa Rica
We're turning a waste product into something useful, and promoting circularity in the process.
Update, 2 November 2022: We will now be able to reach our target of converting 100 percent of our coffee waste into compost by 2024. Eleven months ago, 18 percent of our partner farmers were using this compost, and we now anticipate 100 percent uptake by 2024. Both targets have come forward by two years, from 2026, thanks to additional investments by Nespresso.
Update, 21 December 2021: We're pleased to report that additional co-investments from Nespresso expanded the project even further, delivering a total of 55,000 40kg bags of compost to farmers during 2021.
Repurposing coffee waste into compost is one of the regenerative agriculture practices driven by Volcafe as a Nespresso AAA Sustainable Quality Program partner. The compost benefits Volcafe-Nespresso AAA coffee farmers. Over the next five years, we aim to convert 100 percent of the coffee pulp from our Costa Rican mills into compost, further scaling up our support for sustainability.
Coffee pulp, the waste left during cherry processing, is usually thrown away or dumped into rivers. This year Volcafe in Costa Rica has been part of a project encouraging new applications for coffee waste, turning the mixture of pulp and husks into organic compost for coffee farmers to use for the improvement of their crops.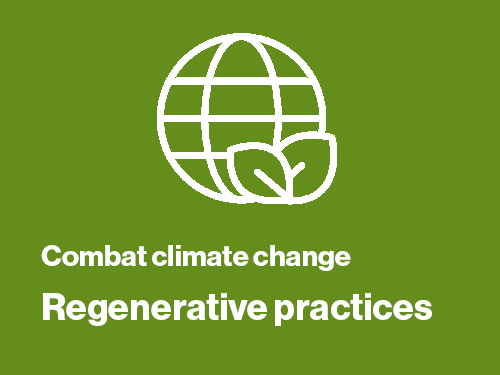 "We're providing compost made from coffee pulp to our farmers. The compost directly improves soil health within our clusters, aligning with our commitment to promote regenerative agriculture," explains Riley Thomson, Farmer Support Organization Manager for Volcafe in Costa Rica.
"By recycling pulp, we are providing an organic soil improvement that boosts soil health at a very low cost, reducing the farmers' dependence on chemical inputs," says Riley. "This project is about taking a wasted product and making it into something useful. It creates a circularity in the Costa Rican coffee industry, where many coffee plantations produce large quantities of pulp which can be made into compost, enriching soils that have lost their fertility and avoiding excessive use of chemical fertilizers. Our mid-term goal is to return 100% of the compost made from our pulp to the farming areas."
Volcafe initiated the project, negotiating with waste management company Abonos Vivos who take the pulp from our mills and turn it into compost, which we then purchase for our farmers. The composting process involves adding microorganisms to the pulp and preparing it through aeration and turning. The resulting compost is a stable, well-balanced soil amendment, containing organic matter, nutrients and beneficial microorganisms. Nespresso has also put forward funds to co-invest and allow an additional purchase of compost to be delivered to the clusters they work with.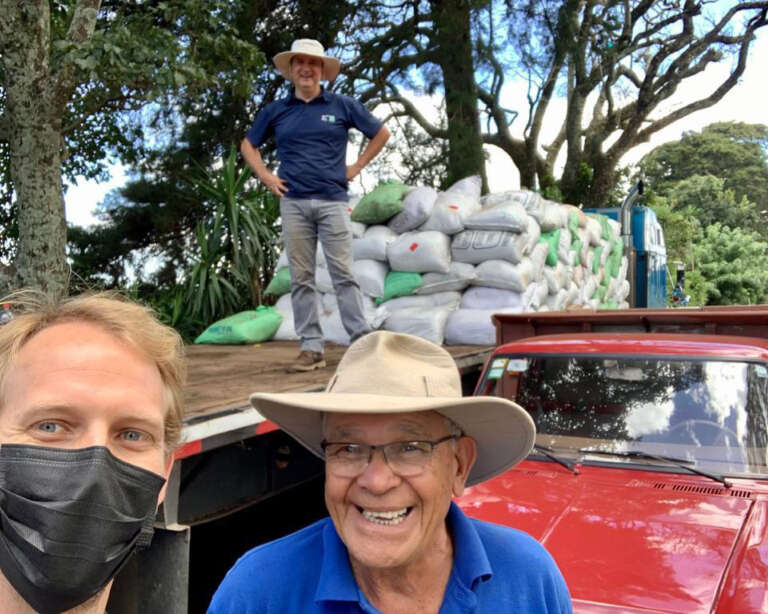 Riley Thomson (with mask) and colleagues supervising the delivery of coffee compost. Image: Volcafe Costa Rica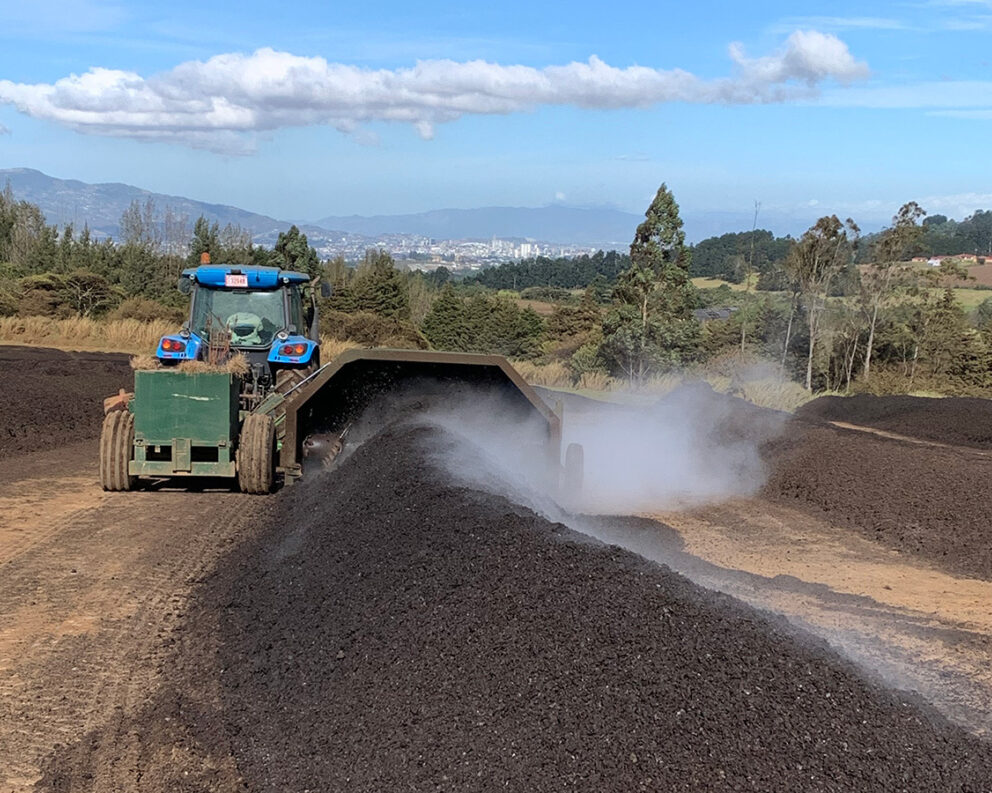 Coffee pulp ready to be made into fertiliser. Image: Volcafe Costa Rica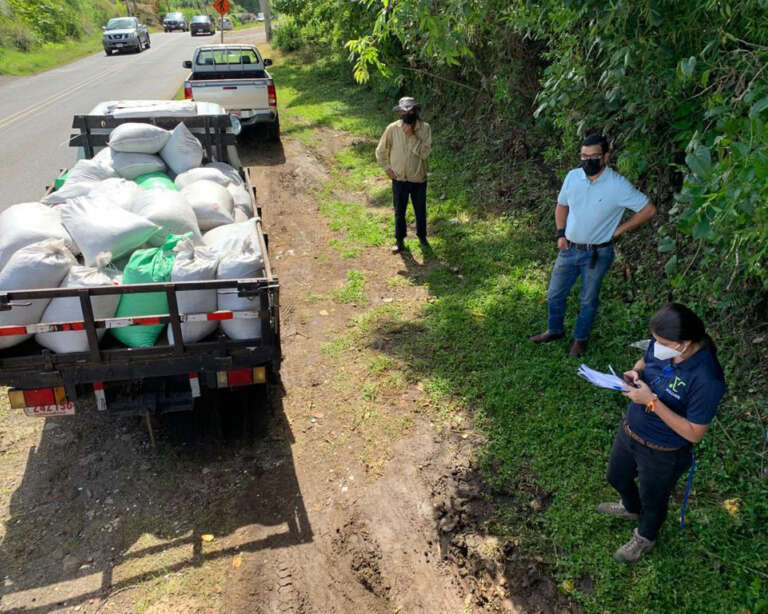 More coffee pulp compost en route to farms. Image: Volcafe Costa Rica
To create awareness of the coffee compost, Volcafe's farmer support team promoted it via a webinar on the topic of regenerative agriculture and then coordinated requests from farmers who were interested in acquiring it. The farmer support team assisted in the deliveries, ensuring the correct amounts of bags were delivered as requested by each farmer.
In June this year Volcafe began delivering the first truckloads of coffee pulp to coffee farmers. The compost has been distributed to farming communities in Costa Rica's Central Valley, Los Santos and Perez Zeledón regions, all areas from which Volcafe purchases coffee.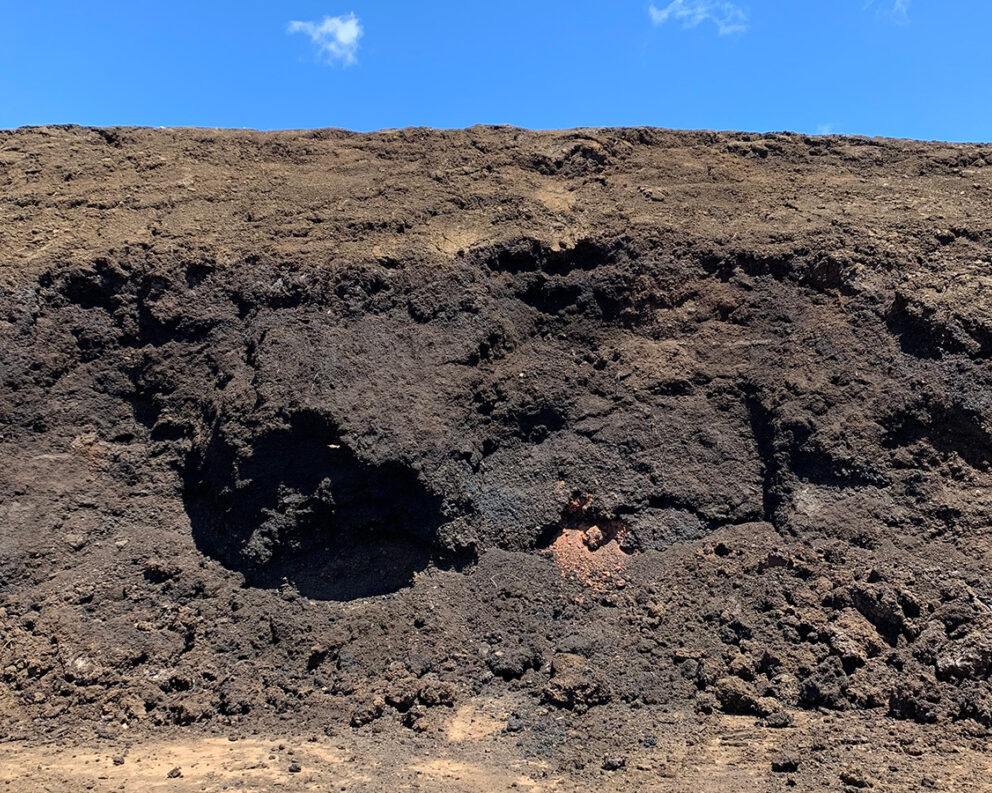 Something from nothing... mountains of coffee pulp were previously wasted, but are now being used to produce compost for coffee plants. Image: Volcafe Costa Rica
Riley says, "Farmers who have already applied the compost have already expressed their satisfaction with quality and its effect on the crop. We're carrying out chemical soil analysis to monitor mid-term quantitative improvements on indicators such as percentage of soil organic matter and cation exchange capacity, which is the soil's ability to retain and exchange nutrients with plants. This capacity is improved by incorporating organic matter."
While the project is in its early phases, farmers are pleased so far and the results are promising.

"We aim to increase the percentage of pulp from our mills that is returned to the farms in the form of compost from 45 percent to 100 percent over the next five years and also to increase from 18 percent to 100 percent farms using the compost on a regular basis," notes Riley.
"The possible benefits are significant, contributing to restoring soil health through recycling coffee by-product."
Quick facts
Country: Costa Rica
Objectives: Encourage the use of coffee waste; Reduce the farmers' dependance on chemical inputs; Create a circularity in the coffee industry
Timeline: 2021 onwards
Impact: 45% of coffee waste transformed into compost. Objective: 100% by 2024 (formerly 2026). 
18% of partner farmers used the compost. Objective: 100% by 2024 (formerly 2026)
This story was originally published on 30 November 2021.
Media contact
Volcafe
:
Marie Renou-Ullrich, Head of Marketing and Communications,
email hidden; JavaScript is required
Related news: