From cost management training to sharing new innovations, Volcafe Way seeks to make farming an economical pursuit for this generation and the next.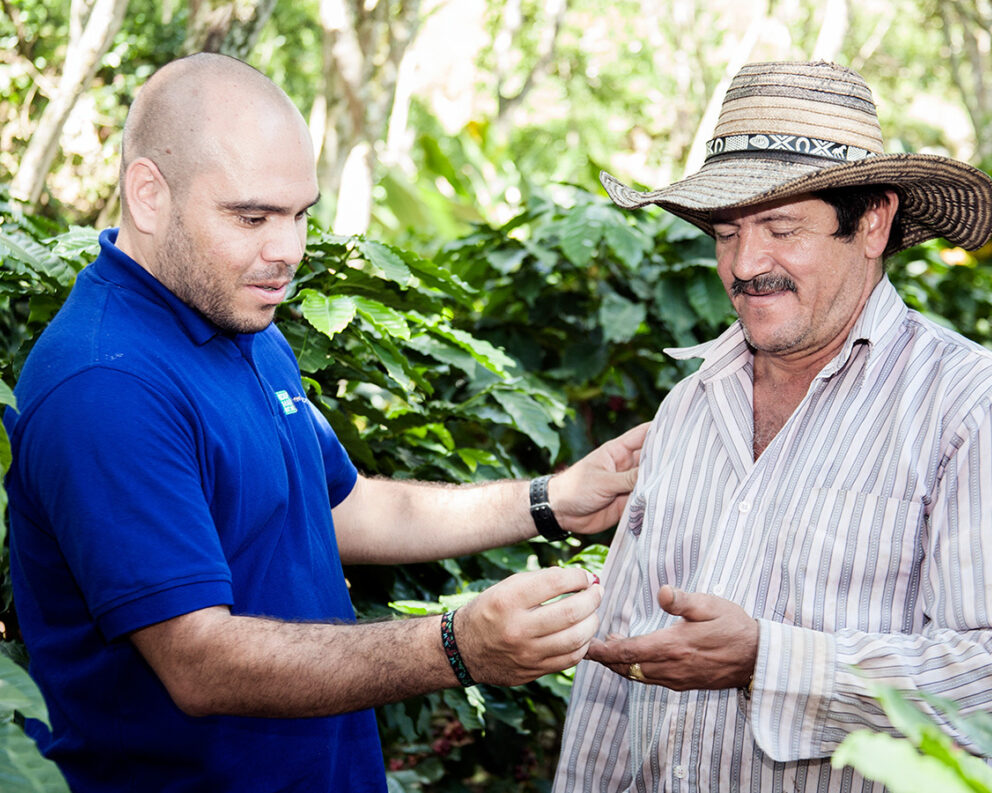 A Volcafe Way technician speaks with a farmer
Volcafe Way was conceptualised in 2014 with the aim to create a sustainable and profitable business model for coffee growers and roasters. It is a global approach to sustainably sourcing high-quality coffees.
Volcafe Way places special focus on farming as a business. What does this mean?
We believe that without profitability there is no sustainability for everyone across the supply chain. If a farming family is not producing coffee economically, they will lack the financial resources for healthcare and education as well as the capital to reinvest in their own coffee farming.
Investing in local knowledge and solutions
Volcafe Way draws on the expertise of our field teams, pooling their collective knowledge and experience to document best-practice strategies at the point of origin. With over 250 agronomists on the ground, we are active in 10 countries in East Africa, Asia and Latin America.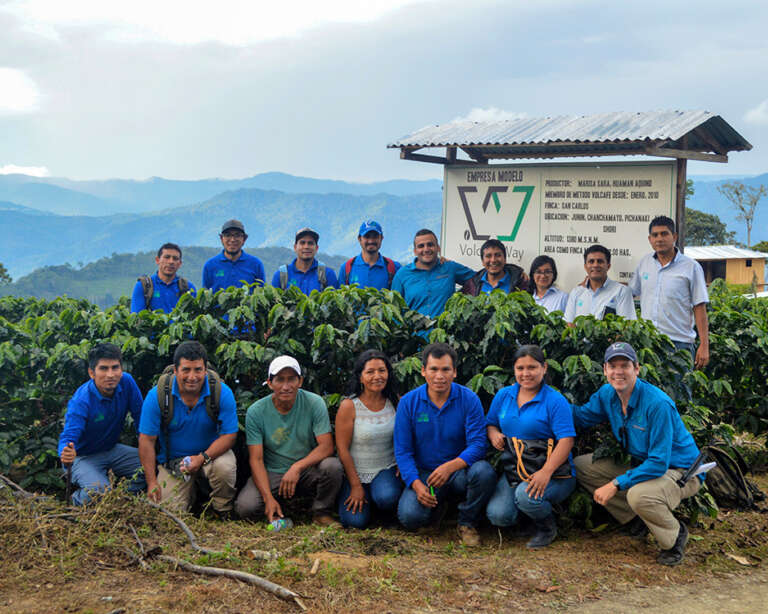 Volcafe Way field team members at a model farm in Peru
Using a 'root cause, root solution' approach we work directly with more than 45,000 coffee farmers to assist and train them in sustainable production techniques and good agronomy practices. 

Volcafe Way makes extensive use of business model farms as means for farmers to see new techniques first-hand, while our team members also visit farming communities and individual farms to offer training and advice.
Coffees from Volcafe Way are socially and environmentally responsible, with a clear action plan to address specific challenges identified in a particular region.
Managing costs and risks
We also teach farmers cost management. In the beginning, many farmers are unaware of their own production cost breakdown. We empower coffee farmers to manage their production according to Volcafe Way standards. We explain connections between financial, agrarian and administrative work.
Volcafe Way works with local experts across the world to produce quality mappings which help to find the right farmers for our programme. They organise trainings and use data-driven methods to increase transparency and traceability.
Our farmer support teams help producers to manage risks, improve outcomes, gather data and focus on measurable results that our green-buyer customers can monitor and verify.
We know that too often, coffee farmers and their kin face difficult decisions about whether to walk away from agriculture. Through Volcafe Way, we want to support the farming community to pass profitable coffee production on to the next generation.
Related news: