Our warehouse and quality lab are in Sydney's western suburbs, a 45 minute drive from the iconic Harbour Bridge and Opera House. 
With the capacity for 4,500 pallets of green coffee it means we carry over 800 coffees from 32 origins ranging from Australia to Zimbabwe. We source the majority of our coffees from the Volcafe network with many of these relationships going back over 30 years. 
Our delivery reach is right across Australia despite vast distances. Sydney to the west coast city of Perth is just under 4000 kilometres, a drive of 41 hours! 
Whether it's origins for blend or speciality single origins, we assist and advise roasters no matter what their size. Cuppings are offered in our Quality Lab where we can roast samples from 100g to 1kg. 
Our team are highly experienced coffee professionals with origin experience and decades of knowledge they are more than delighted to share.
Office Address
Coficom
34 Huntingwood Drive
Huntingwood
New South Wales, 2148, Australia
Tel: +61 2 9809 6266
Email: email hidden; JavaScript is required
Dariusz Lewandowski, Trading and Operations Manager: email hidden; JavaScript is required
John Russell Storey, Marketing Manager & Trader: email hidden; JavaScript is required
Geraldine Abberton, National Sales Manager:  email hidden; JavaScript is required
General Manager
Joseph Taweel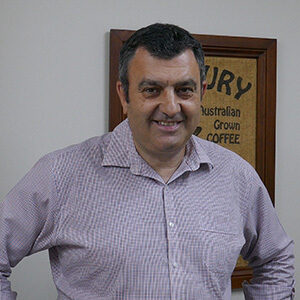 This map is hidden due to your cookie settings. If you'd like to view the map, please click the 'Cookies' tab at the lower right and activate the 'Statistics' cookies.