Volcafe and its network of companies offer a wide range of rewarding careers in countries around the world.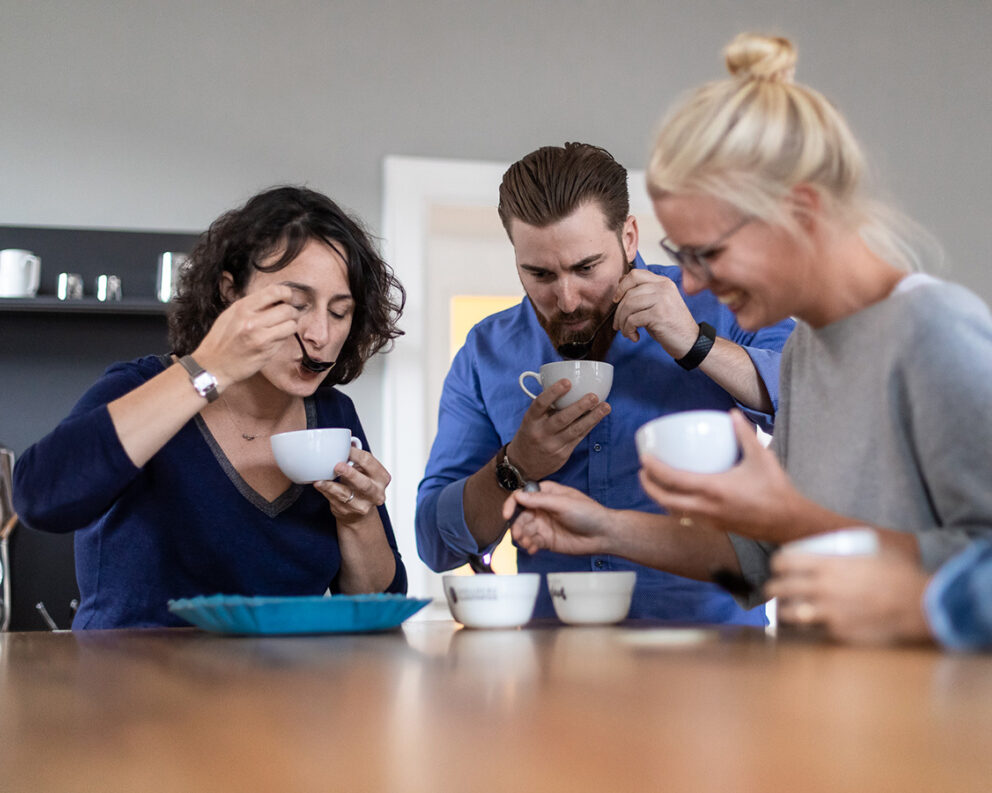 Volcafe is a global company with operations in over 25 countries. We work hard toward becoming the world's best coffee partner. 
Worldwide, we have over 1,800 employees. We work in offices, plants, mills, and in the fields with the farmers we source our coffee from. 
We have positions to suit many profiles and experiences – agronomists, traders, logistics specialists, sustainability experts, economists, administrators, plant managers, and many more. 
Whilst we value the skills and experience you can bring to Volcafe, we also value your potential and will invest in supporting and developing the talent we hire into the Volcafe family.

Current opportunities

Below you'll find our current opportunities – the links will take you to the website of our parent company, ED&F Man Commodities.
You can submit your application using the 'Apply Now' button located at the bottom of each position description.
Working with Volcafe
People are our most valued resource at Volcafe. We believe coffee is all about relationships, and our people bring this business to life. Our ambition is to be the world's best coffee partner, and part of how we will achieve that is by continually striving to be a great place to work.

We are passionate about coffee and it shows. Many of our offices hold daily cuppings. Our field staff take pride in supporting coffee farmers, often sharing photos of the first coffee blossoms or a branchful of ripe red coffee cherries. More than a few of us are keen home roasters, too.

At Volcafe, we endeavour to be a place where our colleagues can develop and grow in a supportive, inclusive environment. Read on for further insights.
Life at Volcafe
The health and wellbeing of our workforce is of paramount importance. We provide flexible working arrangements for many of our employees.
All colleagues globally have access to an Employee Assistance Programme (EAP) which provides free and confidential assessments, short-term counselling, referrals, and follow-up services for employees and their immediate family.
We provide regular educational events to support mental health and wellbeing.
At Volcafe, we are interested in the views, opinions and experiences of our people. We regularly undertake employee engagement surveys and listening activities to find out what our people think about working for Volcafe. The input and insights our employees share help us take action to improve.
In our most recent employee engagement survey (2022), 88 percent of our colleagues participated (8 percentage points above the average). While we can always improve, we were pleased that so many Volcafe colleagues feel connected and positive about working with us: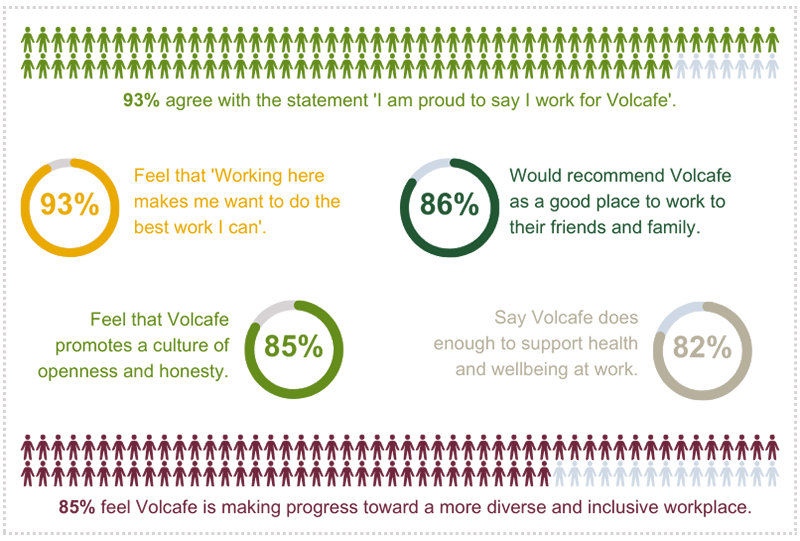 Key opportunities to maintain and improve engagement levels include maintaining the positive sense of:
Diversity and inclusion
Openness, honesty and ethical behaviour
Support for health and wellbeing
Additionally, several of Volcafe's national operations hold Great Place To Work certification, including Brazil, Guatemala, Tanzania, and Vietnam.
Volcafe shares the values of our parent company, ED&F Man Commodities. Our values define who we are. They are the fundamental beliefs that determine our actions and guide our behaviour. They influence the way we communicate and collaborate, and define the way we engage with our clients, partners, and communities.
Respect
We recognise each other's differences, valuing the rich diversity of our workforce and our customers.
We seek out alternative views and value all contributions, aiming to build positive and long-lasting partnerships based on trust and respect.
We seek to protect the environment and enhance the prosperity and wellbeing of the communities in which we work. We collaborate and communicate openly and honestly.
Integrity
We create partnerships built on teamwork, trust, and reliability. We challenge what we believe to be wrong and champion fair, honest and ethical business practices.
We operate robust risk management, and we keep our social and environmental responsibilities at the core of what we do.
Meritocracy
We believe that we will be successful if we have motivated employees who receive fair rewards for their efforts.
Employees have an equal opportunity to build a long-term career at ED&F Man. An individual's progression and reward is based on achievements and ability, not position or status.
Leadership is selected on the basis of track record and the capacity to develop others.
Client focus
We strive to build lasting partnerships with our customers and aim to exceed their expectations by creating additional value.
We are a reliable, innovative, and flexible counterparty wherever our customers choose to work with us.

We are 'as good as our word' and can be trusted to perform, something that our customers value in an increasingly uncertain world.
Our capacity to construct comprehensive solutions based on deep commodities and financial expertise is valuable to our customers as they seek to maximise their own profitability and mitigate complex and global risk factors.
Entrepreneurship
We act upon opportunities, creating and championing new business ideas and hold ourselves accountable for their success.
We constantly seek ways to be more efficient and competitive, challenging the status quo. We create new ideas and build solutions that inspire others to do the same. We take responsibility for turning our ideas into reality, we learn from our mistakes and are determined to improve and succeed.
Our Performance Management programme is designed to improve individual and organisational performance.
Employees work with their managers to establish meaningful goals aligned to the strategic objectives of our business. We place an emphasis on not only measuring 'what' an employee does, but 'how' they do it.
We are confident that all colleagues should:
Know what is expected of them
Receive constructive feedback as to how they are performing in the role and meeting expectations
Know where they need to develop and be supported in achieving this
Annual reviews provide the opportunity to review progress, identify goals and development for the year ahead as well as to give and receive feedback. Additionally, all colleagues check in regularly with their manager's in one-to-one conversations.
At Volcafe and ED&F Man Commodities, we are committed to fostering and maintaining a workplace culture that values and celebrates diversity, promotes equity, and supports inclusion. We believe that every individual has a unique perspective, experience, and contribution to make, and we are committed to creating an environment that respects and honours those differences.
Our approach to Equity, Diversity, and Inclusion (EDI) outlines our commitment to promoting equity, diversity, and inclusion in all aspects of our organisation, including recruitment, training, development, promotion, retention, and workplace culture.
Equity, Diversity, and Inclusion means:
Equity: We are committed to creating a workplace where all employees have equal access to opportunities, resources, and support. We recognize that historical and structural inequalities can exist, and we strive to address these through proactive measures such as pay parity, equitable access to training and development opportunities, and promoting diversity in leadership positions.
Diversity: We believe that diversity enriches our organization and makes us stronger. We are committed to attracting and retaining a diverse workforce and creating a workplace culture that is welcoming and inclusive to all individuals, regardless of their age, gender, race, ethnicity, national origin, religion, sexual orientation, gender identity, disability, or any other characteristic protected by law.
Inclusion: We believe that inclusion is key to creating a workplace where everyone feels valued, respected, and empowered. We are committed to promoting an inclusive workplace culture that fosters open communication, mutual respect, and a sense of belonging for all employees.
Policy statement
Our Equity, Diversity, and Inclusion Policy outlines our commitment to creating and fostering an inclusive organisational culture that promotes diversity, equity, and respect for all colleagues.
Non-discrimination: We prohibit discrimination, harassment, or retaliation against any employee or applicant for employment on the basis of race, colour, religion, sex, national origin, age, sexual orientation, gender identity, disability, or any other legally protected characteristic.
Recruitment and hiring: We are committed to actively seeking out and recruiting from a diverse pool of candidates for all open positions and ensuring that our hiring practices are fair and impartial.
Education, training and development: All colleagues will receive diversity and inclusion training to help them understand the importance of valuing and embracing differences in the workplace.
Promotion and advancement: We will promote diversity and equity in all aspects of our promotion and advancement processes, including ensuring equitable access to leadership positions.
Workplace culture: We will foster a workplace culture that is inclusive, respectful, and supportive of all employees. This includes providing accommodations for employees with disabilities and promoting a safe and harassment-free work environment.
Accountability: We will regularly review and assess our progress toward achieving our EDI goals, and hold ourselves accountable for creating a diverse, equitable, and inclusive workplace.
Open communication: We encourage open communication and provide opportunities for colleagues to share their thoughts, opinions, and experiences related to diversity and inclusion in the workplace, including the ability to report issues.
Conclusion
At Volcafe, we believe that this EDI policy is critical to our success, and we are committed to continuously improving our practices and fostering a workplace culture that values and celebrates diversity, promotes equity, and supports inclusion.
Growth and recognition
All colleagues are provided with a wide range of training and development opportunities which cover technical skills as well as personal effectiveness skills and management and leadership development.
We provide access to an extensive e-learning curriculum catalogue (with over 600 courses), enabling colleagues to proactively self-manage their learning and career development. Topics include management and leadership, personal effectiveness, team development, commercial knowledge, wellbeing, and technical business knowledge. Training reflects global business issues and risks as well as topics relevant to commodity trading.
Our talent management cycle is continuous and focuses on succession planning for critical roles. We place a significant effort on developing our existing employees via our in-house management development programme, 'The Fundamentals of Management':
This is a practical, modular programme
Delivered globally to those with management and supervisory responsibilities
Provides a clear template for good practice
We also provide managers with additional one-to-one support through coaching and individual development activity.
In 2022, Volcafe launched a programme to support all staff with management responsibilities to develop interpersonal leadership skills and management capabilities via 360 feedback activities and personal development plans.
Volcafe has also been proactive in developing career opportunities for female employees, with a new mentoring programme that aims to provide women with the know-how and confidence to advance their careers within the company and break down any barriers that might be holding them back.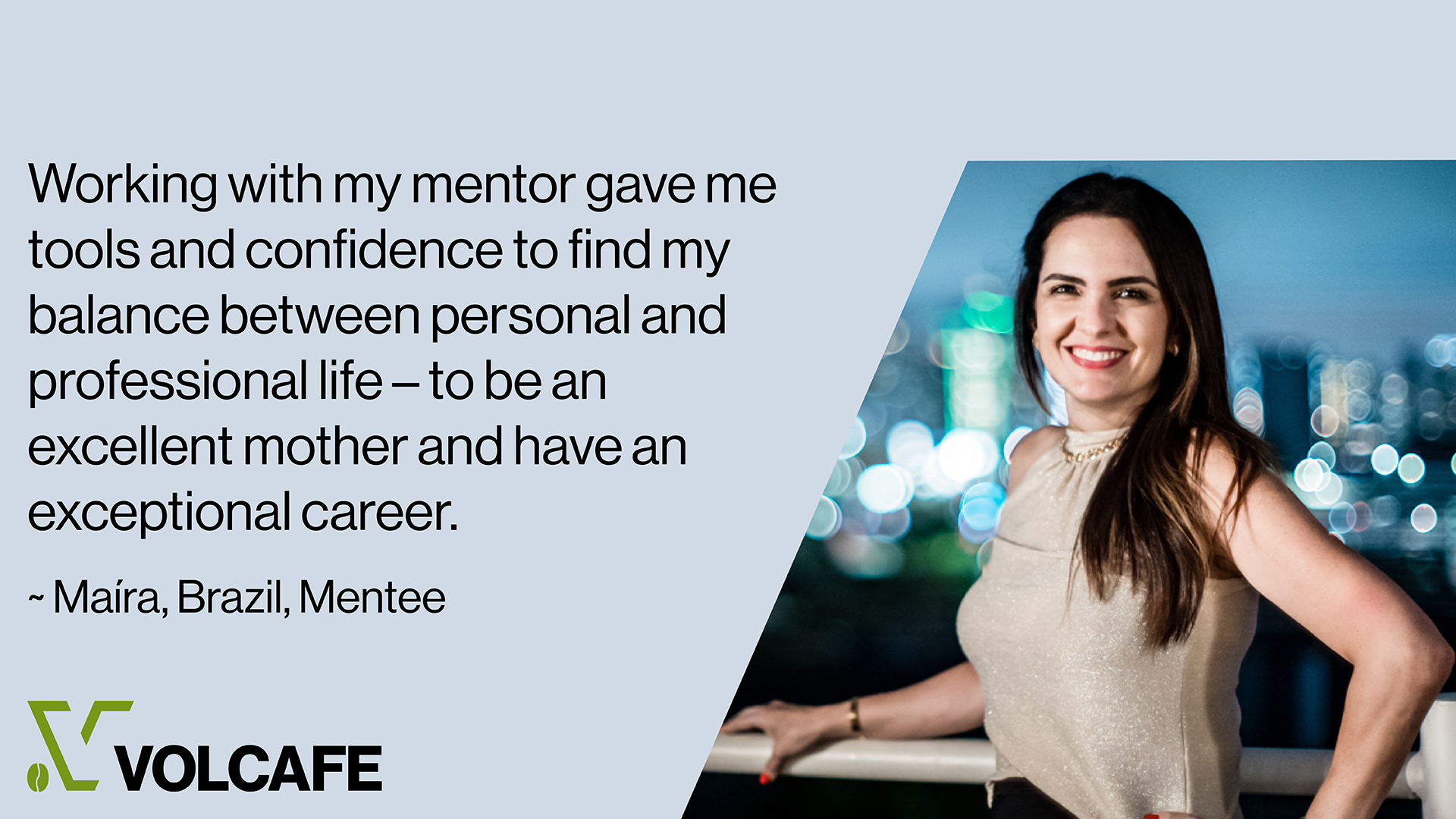 Volcafe's trainee programme is all about learning by doing. The two-year programme provides hands-on training in all departments, including time in a coffee origin country.

Trainees have exposure to our leadership team and many other chances for personal development. The programme provides opportunities to build a great career in the coffee business.
We are a global business that offers international opportunities, supporting global mobility for individual employees where appropriate in line with business needs.
At Volcafe, we provide competitive remuneration packages that are subject to regular review. You can expect regular feedback and support to help you develop and progress in your career with us. We support global mobility of our employees in line with business needs whilst considering internal equity.
Our rewards philosophy is one that provides compensation, incentives, and benefits that are competitive and motivational. Consistency, fairness, and equity are foundational elements. Our programme is based on five principles:
Pay for performance – Paying for results, deliverables, and progress, not tenure or position.
Transparency – Candid communications, reflecting both positive and developmental elements of performance and behaviour.
Objectivity – Allocating incentives through objective criteria with fairness and justification.
Ownership – Encouraging an ownership attitude for the alignment of employee and company interests.
Total reward – Motivating by more than just monetary reward.
Volcafe has received much positive recognition as an employer. 
This includes an 'Outstanding Workplace 2022' recognition from People Insight, the independent company that conducted our last employee engagement survey (see the tab below for more on those results), placing Volcafe in the upper quartile of all organisations surveyed by People Insight that year.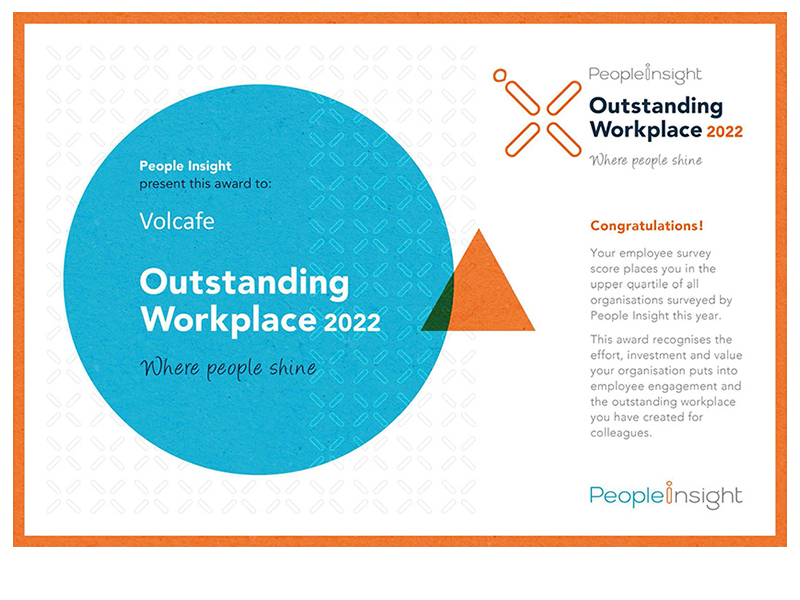 Several of Volcafe's national operations hold Great Place To Work certification, including Brazil, Guatemala, Tanzania, and Vietnam. 

EcoVadis gave Volcafe its Gold rating for sustainability in 2022, placing us in the 93rd percentile of the 90,000+ companies they've assessed. The assessments check 21 criteria across four thematic areas – environment, labour and human rights, ethics, and sustainable procurement.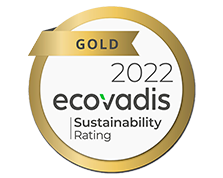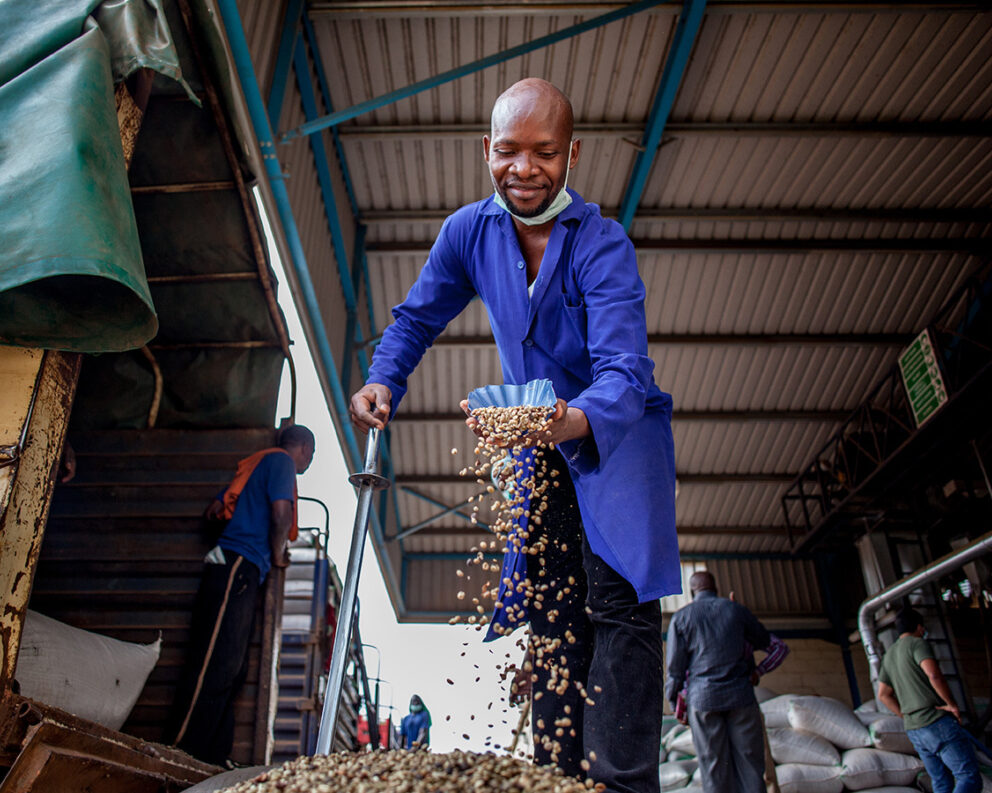 Sampling delivered coffee at a dry mill in Uganda.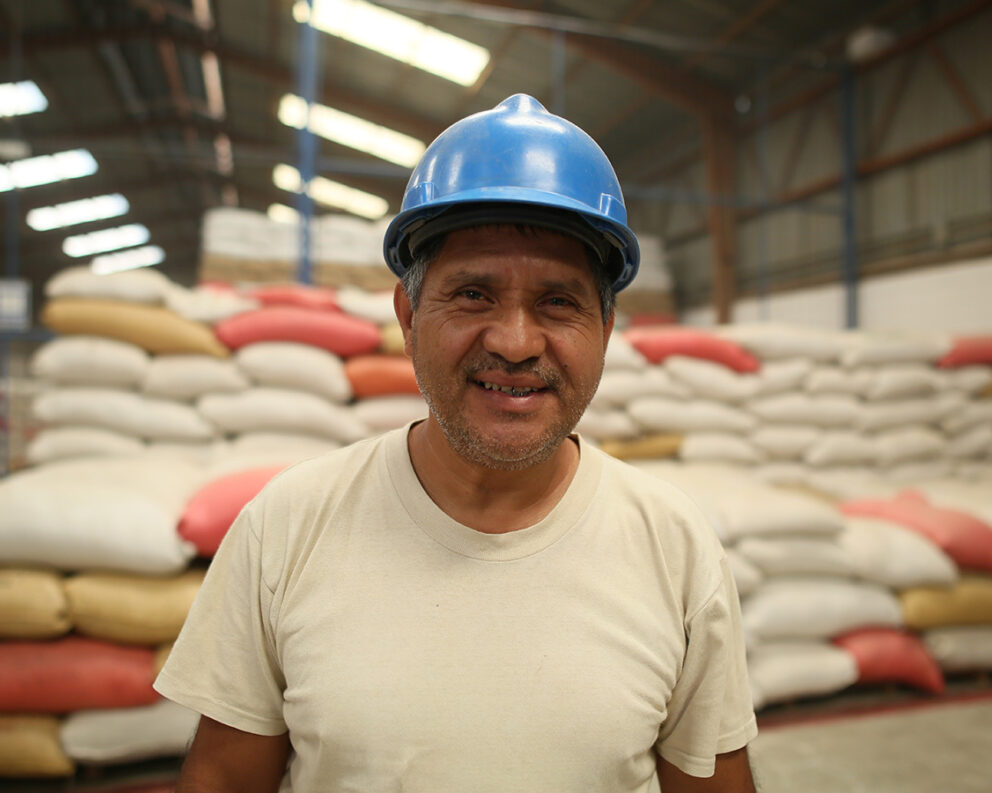 Working in a warehouse at our Guatemalan company, Peter Schoenfeld.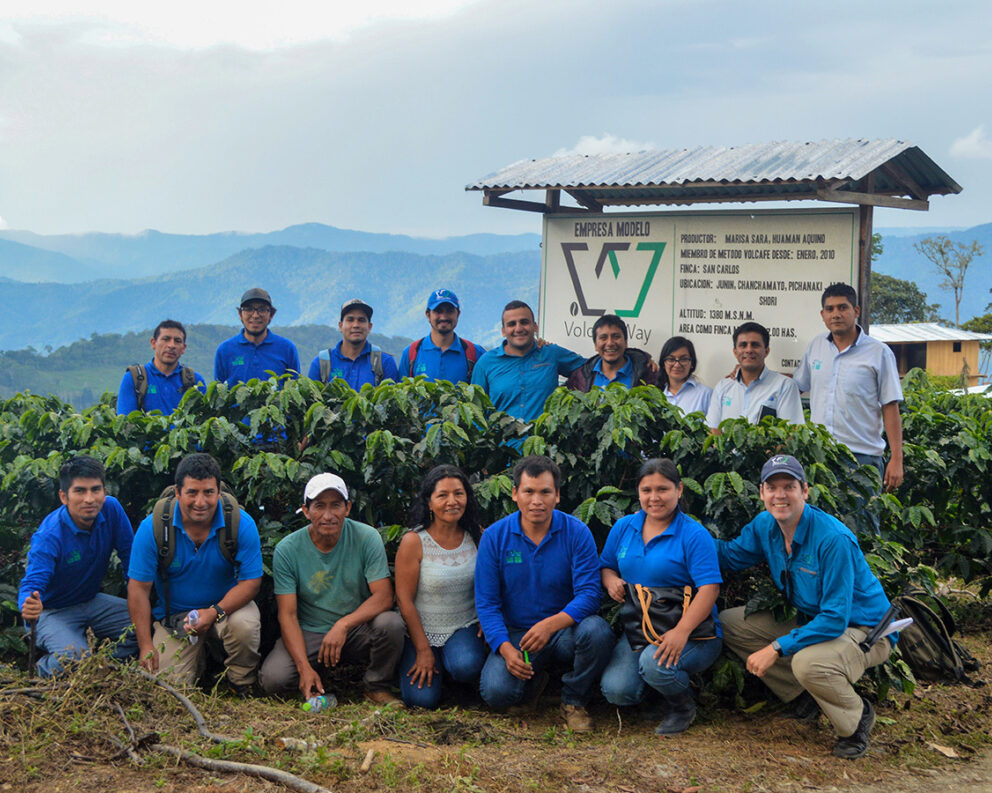 Volcafe Way team members in Peru.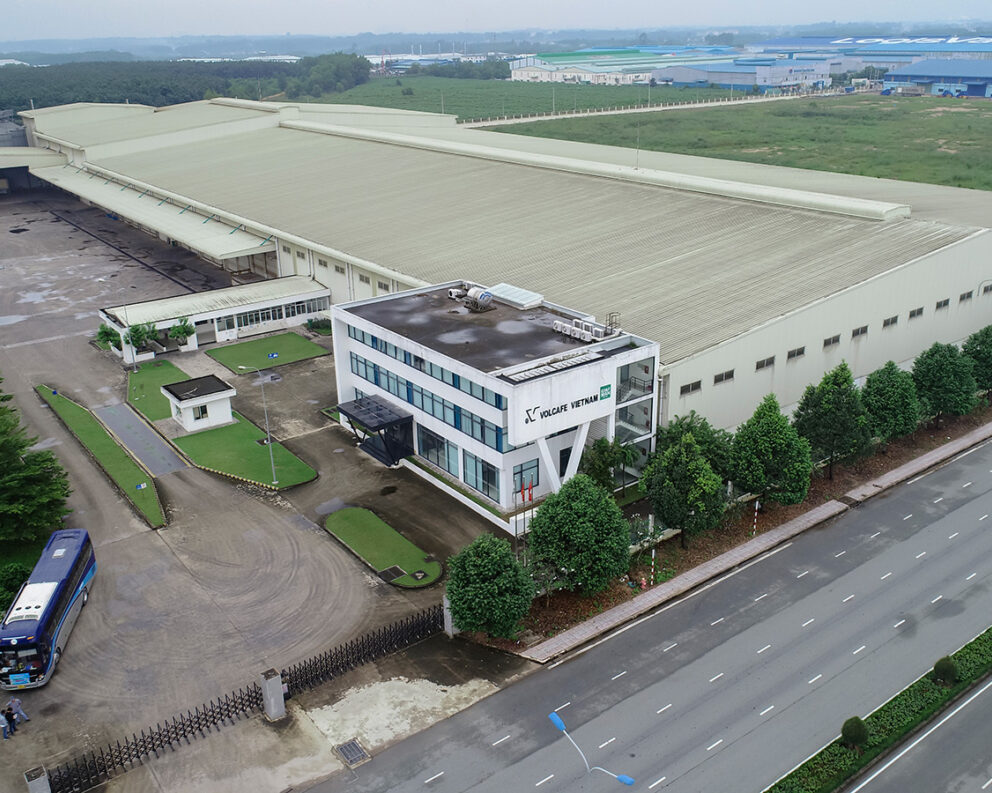 One of our facilities in Vietnam.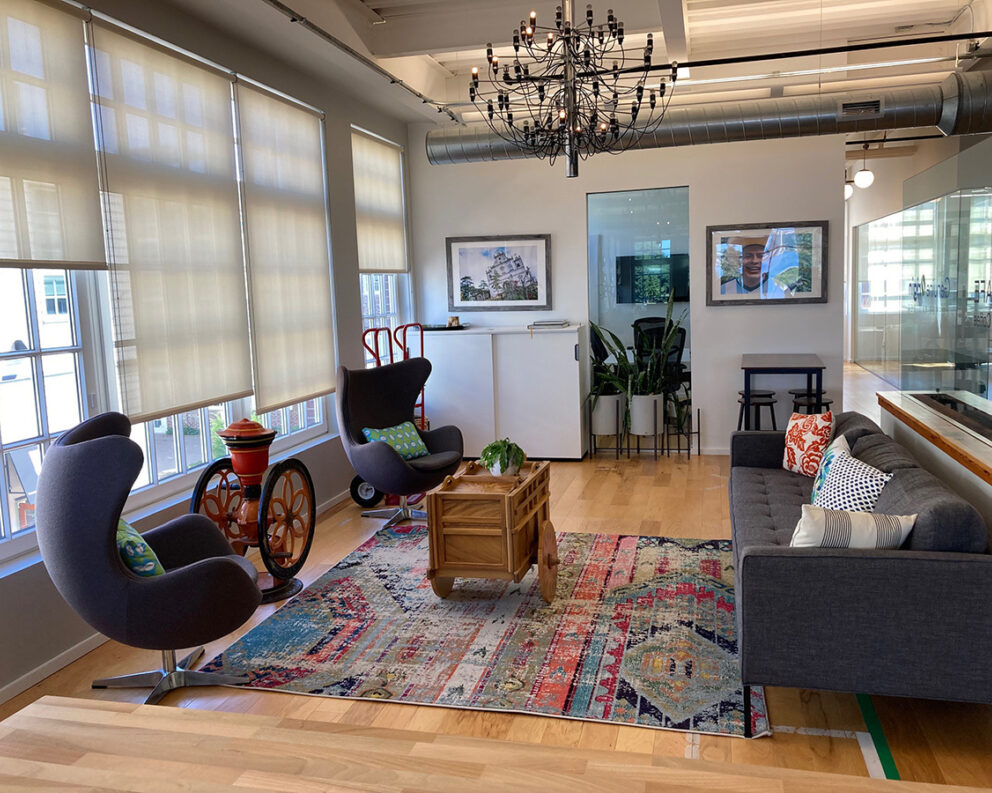 Part of the office at Volcafe Specialty and Genuine Origin in the United States.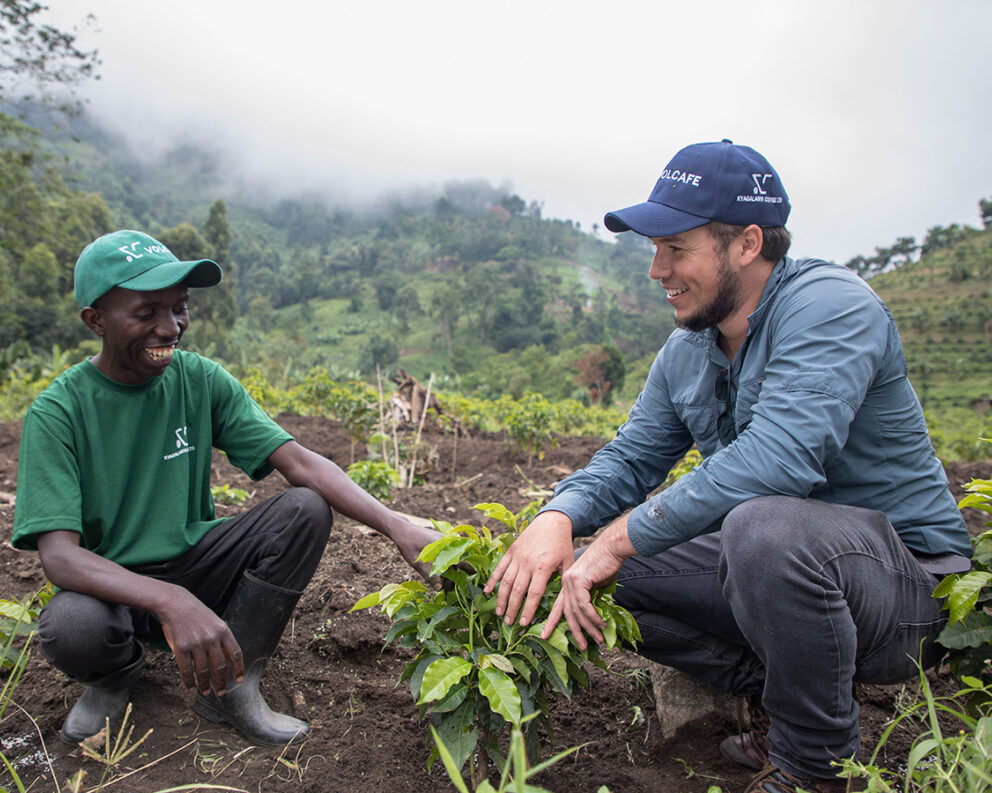 Our Volcafe Way teams work directly with farmers to boost sustainable profitability.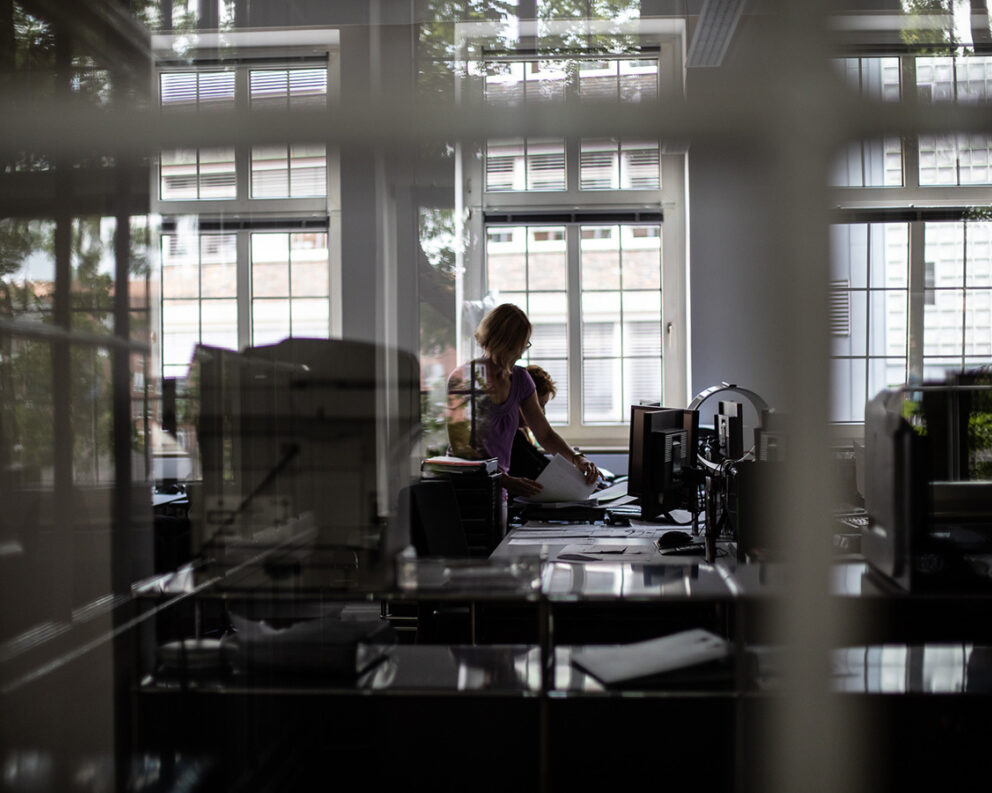 Between calls with customers and colleagues, there's time for a quick chat over coffee.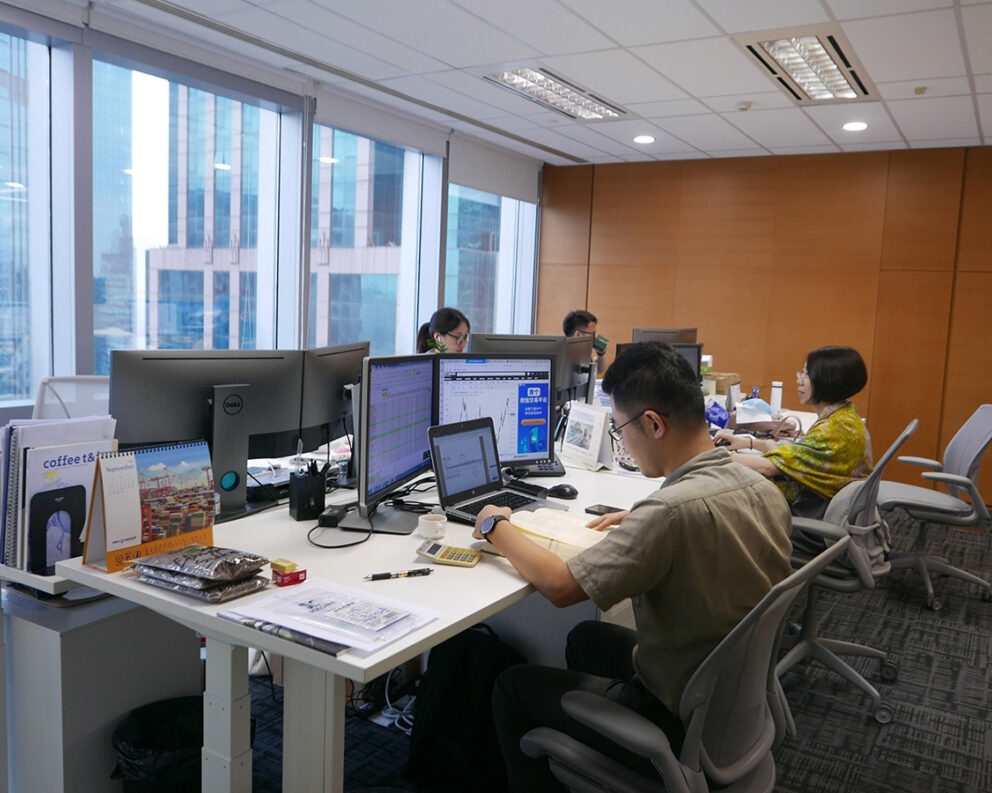 We help bring coffees to destinations around the world. Here's a peek at our Shanghai office.
Volcafe is an equal opportunity employer
Volcafe, along with its parent company ED&F Man Commodities, is committed to promoting equal opportunities in employment. All qualified applicants will receive equal treatment without regard to race, colour, sex, gender, age, religion or belief, ethnic or national origin, marital or civil partner status, physical or mental disability, military or veteran status, sexual orientation, gender reassignment (identity, gender expression), genetic information or any characteristic protected by local law.
Related news: