We source, process, export, and sell Arabica coffee
We provide technical assistance to coffee growers
We run a coffee quality lab
We handle transport logistics

Founded 1992
And part of Volcafe's 170+ year history.
Growing regions
Amazonas, Cajamarca, Junin, Pasco, San Martin
Peru's coffee regions are located between the Andean Mountain range and the Amazon rainforest, which means that numerous natural habitats allow a vast cultural and ecological wealth to coexist in one diverse and exuberant country, characterised by its rich ethnic legacy.
Volcafe Peru has impacted the socioeconomic conditions of more than 6,000 coffee-producing families from Pasco, Junin, Amazonas, San Martin and Cajamarca regions – thanks to permanent technical assistance that is directly linked to sustainable supply chains.
The cultural diversity of our team helps us to contribute with a broad vision and pragmatic approach that guarantees continuous improvement throughout the value chain. Our team has created numerous work opportunities throughout the rural communities of Peru, allowing local talent to access formal employment and high-quality, continuous training.
Volcafe has spearheaded a sustainable profitability approach that aims to boost productivity, quality, and resource efficiency at the farm level, coupled by a strong focus on regenerative practices and agroforestry systems.
Volcafe Peru focuses on direct sourcing from sustainable supply chains that are able to offer a wide range of coffees – from mainstream plus, to regional and high-end specialty coffees. We understand the needs of the coffee supply chain, therefore we have a Quality Control lab in every buying station and dry mill – this guarantees a consistent and stable quality. Our Quality Control and Agronomy team works side by side with coffee-producing families in order to provide necessary feedback and share best practices that allow them to improve sustainably and comply with the highest standards for responsible sourcing.

Office Address
ED&F Man Volcafe Peru
Av. Pedro Ruiz Gallo 124c / 125a, Santa Clara, Ate, Lima, Peru
Tel: +51 (1) 356 44 54
Email: email hidden; JavaScript is required
General Manager
Roberto Ortiz Calvo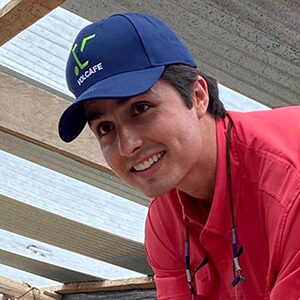 This map is hidden due to your cookie settings. If you'd like to view the map, please click the 'Cookies' tab at the lower right and activate the 'Statistics' cookies.
| | |
| --- | --- |
| Species / varieties | Arabica: Catimor, Caturra, Catuai, Bourbon, Pache, Typica. In smaller quantities: Colombia, Castillo, Geisha, Mundo Novo, Pacamara, Catigua, Obata, CR 95, Sarchimor, Tupi, Tabi, Villalobos, Lempira, Maracatiá, Parainema |
| Altitude range | 1200-1580 masl |
| Harvest dates | April-August |
| Processing | Dry mill, cupping/quality lab, drying station |
| Number of farmers | About 5,800 farmers |
| Volcafe Way Business Model Farms | 115 Volcafe Way model farms |
| Volcafe Way field team members | 30 field team members |
| Certification qualifications | Fairtrade (FLO ID 40859), Fair Trade USA (ID: 1022789), Organic (EU, USDA NOP/Canada, Peru), Rainforest Alliance |
We believe in a responsible citizenship that seeks a better future for our next generations, hence our non-profit organisation (VSP Generaciones) and strategic partner (Semillas) have built 14 state-of-the-art and award-winning schools in the remote coffee villages of the Peruvian rainforest. 
More than 1,000 children have been directly impacted by these fascinating projects.