Volcafe has over 170 years of history in the coffee trade bearing testament to our strong values, our reliability, and the trust our clients place in us.
Explore Volcafe's history, from its founding as Volkart Brothers through to the present day, in the chapters below. You can also learn about the values we share with our parent company, ED&F Man Commodities.
The early years
1851
Simultaneous foundation of Volkart Brothers in Bombay (now Mumbai, India) and Winterthur (Switzerland) by Salomon and Johann Georg Volkart, pictured below.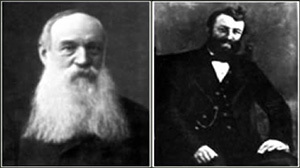 1857
Start of coffee operations in Cochin (India) and Colombo (present-day Sri Lanka, then part of India)
1865
First Europe-India telegraph connection increases speed of communications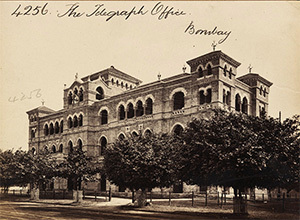 1869
Opening of Suez Canal reduces transportation time between India and Europe from four months to four weeks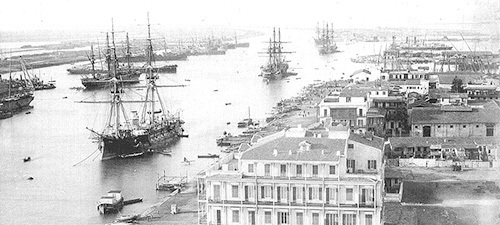 1875
Expansion of coffee activities by opening Tellicherry branch (India)
1875
Opening of Volkart Brothers Sales Agency London (United Kingdom)
1886
Volkart's first installation of mechanical coffee mill in Tellicherry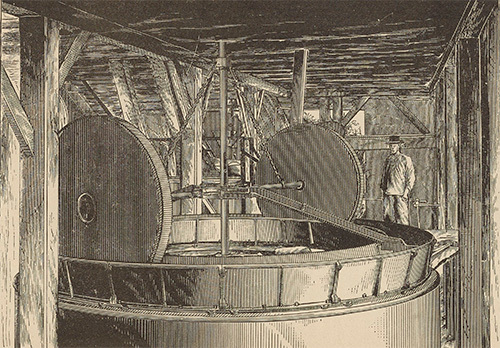 1890
Start of Volkart's purchasing offices in Coorg/Mysore (India)
The 20th century
1903
Opening of Volkart sales office in Osaka (Japan)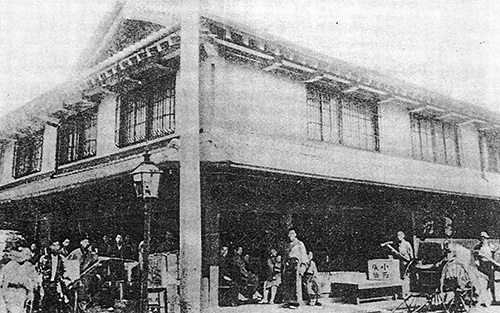 1905
Inauguration of Volkart's own office building in Winterthur
1914
Acquisition of mechanical coffee mill in Mangalore (India)
1922
Opening of direct telephone line London-Winterthur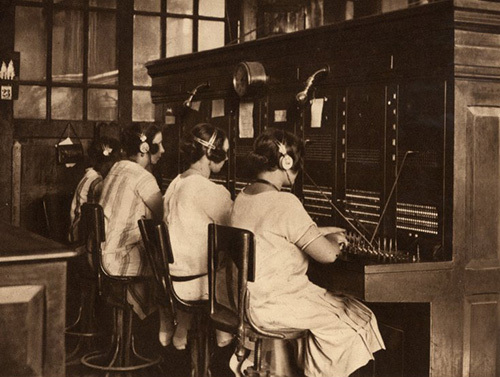 1924
Inauguration of Volkart building in Bombay (now Mumbai)
1928
Inauguration of new Volkart office building Winterthur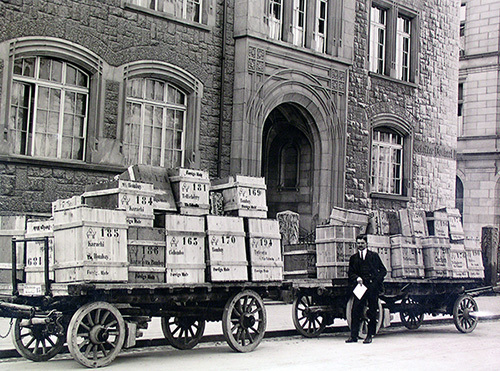 1934
Start of telex communication in Switzerland
1936
Volkart acquires three large plantations in India
1954
Expansion of sales activities in Volkart Winterthur and New York
Shift of origin activities from Asia to Latin America and Africa
Start of export operation Volkart Irmãos Limitada Santos (Brazil), the world's largest producing country
Opening of Volkart Hnos de Mexico as buying representative
1956
Volkart's global green coffee sales reach 1 million bags
1962
International Coffee Organization in London (consisting of 32 producing and 22 consuming members) establishes export quota and price mechanism. Annual world production about 75 million bags
1963
Volkart's global green coffee sales reach 3 million bags
1967
Volkart acquires 35% in two leading Guatemalan exporters, Peter Schoenfeld SA and Juan Waelti Sucs SA. Both companies own mills in the highlands thus Volkart gains access to substantial volume of top quality coffees
Volkart acquires 35% in Café Capris SA Costa Rica, another high-quality producing country
1970
Café Capris SA sets up joint venture export company BENEXPORT with six important coffee millers/producers
Under new Indian Coffee Law, Volkart is obliged to sell its coffee activities to local company TATA Group
1975
Severe frost hits Brazilian coffee areas and leads to coffee price surge from 50 cts/lb pre-frost to peak 340 cts/lb at 'C' Contract New York in April 1977
1979
Volkart takes 50% stake in PNG Coffee Exports Ltd, becoming first non-PNG/non-Australian stakeholder in PNG coffee business
1980
Green coffee business between origin and destination countries was initially done by postal courier followed by telegram and telex.
Hansjoerg Brandenberger, former General Manager for Guatemala, recalls the intricate shorthand needed to convey complex positions via telegram:
'When I started my training with Volkart in Switzerland in 1977, we were quite active in India and in order to participate at the coffee auction we communicated by telegram, using letter codes, with each one representing whole sentences. The code book contained thousands of different codes, and we had to find the correct code expressing as much as possible.'
Starting in 1980 telefax becomes the main communication device.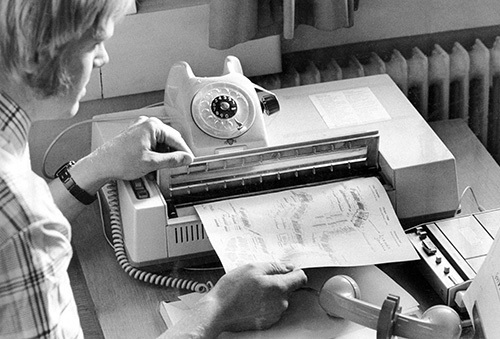 1981
Volkart acquires Gollücke & Rothfos GmbH of Bremen (Germany), a mid-sized green coffee importer, opening doors to the largest European coffee market
Volkart buys 33% stake in Taylor Winch Kenya Ltd and Tanzania Ltd, companies in two top quality producing countries
1982
Satellite telephone becomes another communication channel
John DeMuria, who started with Volkart Brothers in 1982 at an office on New York's Wall Street and now manages Volcafe USA, recalls the onset of the tech revolution that would change trading:
'In 1982, there were no smart phones, no laptops, no spreadsheets, no internet, email, or texting, not even a fax machine. We would be on the phones all day with domestic customers, trading by telex with international customers and suppliers. Our telex operator was the backbone of the trading operation. Contracts were done in triplicate with carbon paper and had to be mailed to origin. It would sometimes take months before signed contracts were returned. Business travel to origin was a must and trips would be weeks instead of days...

'In 1985 we purchased our first fax machine which marked the end of the telex era. I believe that year we also bought one of the first Apple desktops with Lotus 123 spreadsheet software. It was a game changer especially for position keeping.'
1983
Volkart buys 30% of capital in Molinos de Honduras S.A.
Volkart enters the world's then second largest producing country, Colombia, acquiring 47% in Carcafé SA with four dry-mills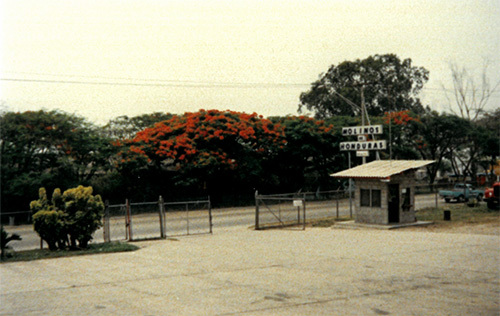 1984
Volkart's global green coffee sales reach 4 million bags, of which 1.5 million bags are exports of its own companies, primarily high quality washed Arabicas from Colombia, Central America and East Africa
1985
Andreas Reinhart, fifth generation member of the Volkart family, is now the company's sole owner
Drought in Brazilian coffee areas drives 'C' Contract from 140 to 280 cts/lb
1988
Carcafé Colombia opens new export company Empresas de Nariño in top quality area Nariño as joint venture with local shareholder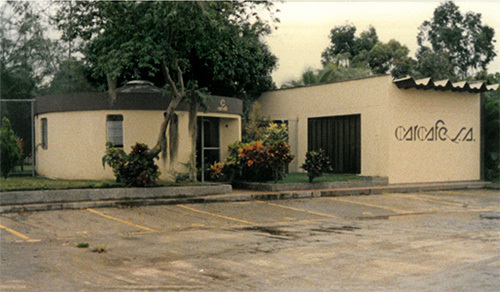 1989
ERB Group, a large Winterthur-based car importer and industrial group, acquires 80% of Volkart's global coffee organisation, and 20% goes into management hands.
The company's name is changed to Volcafe.
The new owners decide to increase shareholding in all companies, preferably to 100%. This includes PNG Coffee Exports Ltd, Taylor Winch Kenya, Taylor Winch Tanzania, Carcafé Colombia, Café Capris Costa Rica, Molinos de Honduras, and Peter Schoenfeld/Juan Waelti Guatemala, with the two latter companies being merged into Waelti-Schoenfeld SA
4th International Coffee Agreement ends export quota and price mechanism. This triggers an increasing production surplus as a result of remunerative prices leading to a parallel market for non-quota-coffees. These trade at huge discounts which is no longer tolerated by member importing countries, spurring a free market. Annual world production reaches 100 million bags.
1990
Volcafe starts important upstream investment policy in mills and warehouses, especially in High Quality Washed Arabica countries
Volcafe acquires large Costa Rican wet milling companies Beneficios Montealegre and San Diego as well as farm/mill Rio Negro
E-mail gradually becomes main communication channel for global coffee business
1991
Carcafé Colombia takes over export company German Merino from Jacobs (the large European roaster group)
1992
Volcafe acquires its first export company in a Robusta country, Kyagalanyi Coffee Ltd Uganda
Volcafe Santos in Brazil buys 75% of Copag warehouse/mill in Varginha
1994
Another frost in Brazil pushes 'C' contract from 80 to 260 cts/lb
Volcafe's green coffee sales reach 8 million bags, of which 4.5 million bags are exported by its subsidiaries in producing countries
1995
Volcafe acquires Mexican exporter Becafisa SA in Oaxaca
1996
Volcafe implements vigorous focus on Specialty Coffees and develops sustainability projects at its East African and Latin American subsidiaries
Volcafe acquires Peruvian export company Prodelsur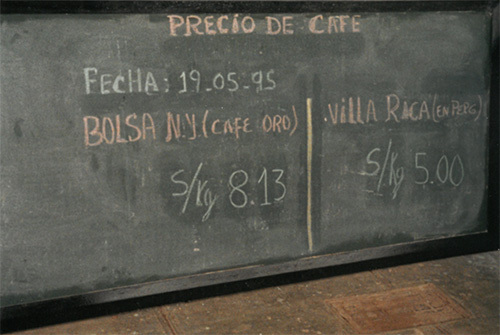 1998
Volcafe acquires Cofi-Com Ltd in Sydney (Australia) and thus obtains a presence on all five continents
Drought in Brazil drives 'C' contract from 140 to 320 cts/lb
1999
Volkopi Indonesia is founded with head office in Palembang and an Arabica gourmet subsidiary in Medan
Volcafe's global green coffee sales reach 10 million bags, of which 6 million are from its own export subsidiaries. Global annual production at the time is around 110 million bags
Into a new era
2000
Volcafe joins forces with the owners of Madison Coffee New York which becomes key operation in North America under the name Volcafe USA
2001
Inauguration of Volcafe Specialty Coffee Inc. 
2003
Volcafe grows to be a world leader in infrastructure in producing countries:

51 mills, of which 36 are owned and 15 rented
11 warehouses, of which 3 are owned and 8 rented
Total processing capacity 6.3 million bags, of which 5.5 million are Arabica and 0.8 million are Robusta
2004
ERB Group, then parent company of Volcafe, is bankrupt. Volcafe Group is sold intact to ED&F Man, a large commodity house founded in London in 1783. ED&F Man integrates its coffee activities (London, Brazil, Kenya, Singapore, Slovenia, Vietnam) in Volcafe Winterthur, which is henceforth the Coffee Division of ED&F Man
14 Management Partners who own 20% of Volcafe swap shares into ED&F Man equity
2006
Volcafe's global sales exceed 15 million bags of green coffee, of which 10 million bags are exported by its subsidiaries in producing countries.
Volcafe is present with export companies or agencies in top 20 producing countries (except Venezuela) and top 20 consuming markets (except Algeria).
Volcafe's market share in Washed Arabica origins is 20%, in Unwashed Arabicas (Brazil) 12%, Robustas 8%.
In all major consuming regions, Volcafe's market participation is around 15%.
2014
Volcafe Way is developed and launched as a comprehensive farmer support programme. Volcafe Way combines technical advice and training for coffee farmers, deploying field advisors with agronomy expertise and creating networks of business model farms.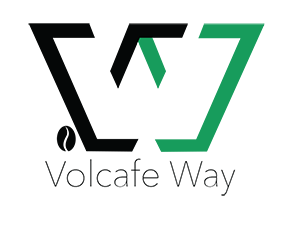 Volcafe continues to expand its assortment of responsibly sourced coffees through Volcafe Way as well as third-party certifications such as 4C, Fairtrade, Organic, and Rainforest Alliance.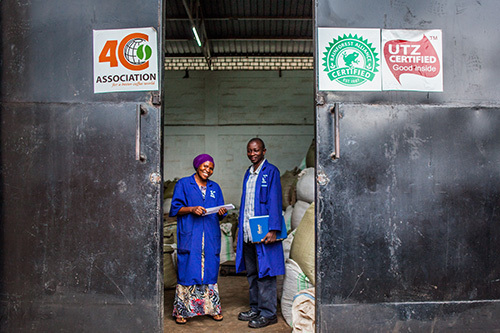 2020
Volcafe marks its 170th anniversary. The company has become one of the top three coffee merchants, sourcing 12 percent of the world's export market.
Volcafe adopts a new, purpose-led proposition: Making coffee business better, together.
2021
Volcafe launches new Sustainability Strategy as part of its efforts to foster a thriving, sustainable coffee business for all. Our Sustainability Strategy focuses our activites in three key pillars: Sustainable Profitability, Regenerative Practices and Responsible Citizenship.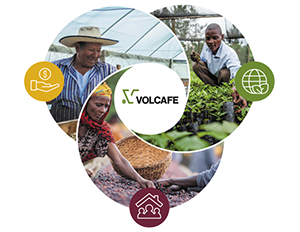 2023
Volcafe launches an enhanced approach to responsible sourcing (Volcafe RS) drawing on experience with Volcafe Way, resulting in the Volcafe RS Standard and its two levels of practice: Volcafe Verified and Volcafe Excellence.
There's more to come!
Volcafe's ambition is to be the world's best coffee partner. Work with us as we make coffee business better, together.
Volcafe expresses its thanks to Hansjoerg Brandenberger, Klaus Fülles, Jacqueline Lauebli, and Paul Moeller (all Volcafe alumni) for their contributions to the creation of this timeline.
Explore Volcafe's impact for farmers
Our values
Volcafe shares the values of our parent company, ED&F Man Commodities. Our values define who we are. They are the fundamental beliefs that determine our actions and guide our behaviour. They influence the way we communicate and collaborate, and define the way we engage with our clients, partners, and communities.
Respect
We recognise each other's differences, valuing the rich diversity of our workforce and our customers.
We seek out alternative views and value all contributions, aiming to build positive and long-lasting partnerships based on trust and respect.
We seek to protect the environment and enhance the prosperity and wellbeing of the communities in which we work. We collaborate and communicate openly and honestly.
Integrity
We create partnerships built on teamwork, trust, and reliability. We challenge what we believe to be wrong and champion fair, honest and ethical business practices.
We operate robust risk management, and we keep our social and environmental responsibilities at the core of what we do.
Meritocracy
We believe that we will be successful if we have motivated employees who receive fair rewards for their efforts.
Employees have an equal opportunity to build a long-term career at ED&F Man. An individual's progression and reward is based on achievements and ability, not position or status.
Leadership is selected on the basis of track record and the capacity to develop others.
Client Focus
We strive to build lasting partnerships with our customers and aim to exceed their expectations by creating additional value.
We are a reliable, innovative, and flexible counterparty wherever our customers choose to work with us.

We are 'as good as our word' and can be trusted to perform, something that our customers value in an increasingly uncertain world.
Our capacity to construct comprehensive solutions based on deep commodities and financial expertise is valuable to our customers as they seek to maximise their own profitability and mitigate complex and global risk factors.
Entrepreneurship
We act upon opportunities, creating and championing new business ideas and hold ourselves accountable for their success.
We constantly seek ways to be more efficient and competitive, challenging the status quo. We create new ideas and build solutions that inspire others to do the same. We take responsibility for turning our ideas into reality, we learn from our mistakes and are determined to improve and succeed.
Related news: