Beyond our own Volcafe RS Standard, Volcafe has extensive experience sourcing coffees through popular sustainability schemes.
Compared with the situation a few decades ago, today's coffee drinkers, roasters, traders, and producers have many recognised options to choose from when they want to demonstrate their commitments to sustainability and responsible production.
Volcafe's network of offices in coffee origins and key destinations means we are well-placed to source coffees certified by a number of the leading sustainability schemes and initiatives. In many cases, our Volcafe Way field teams are on the ground advising and supporting farmers on how to understand and fulfil the requirements set forth by the different standards.
While not every coffee Volcafe trades has a certification, our teams can deliver a wide selection of coffees that are certified through independent systems such as Rainforest Alliance, 4C, Fairtrade and Organic (including EU, JAS, and USDA).
Additionally, our field teams work with farmers involved in supply chains that meet the requirements of roaster standards like C.A.F.E. Practices and Nespresso AAA.

And as a complement to these approaches, Volcafe offers the Volcafe RS Standard and its two levels of practice, Volcafe Verified and Volcafe Excellence.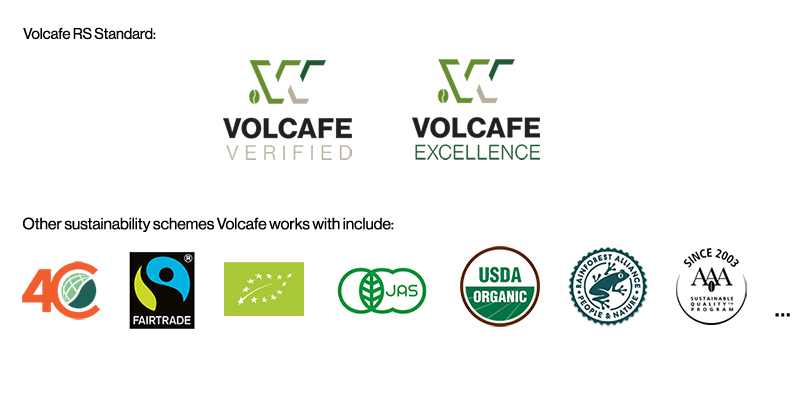 Talk to us about your sustainability goals
Volcafe wants to be your partner of choice. Let's work together to create a more sustainable coffee business.
Contact our office near you
Related news: