Our coffee experts on the world stage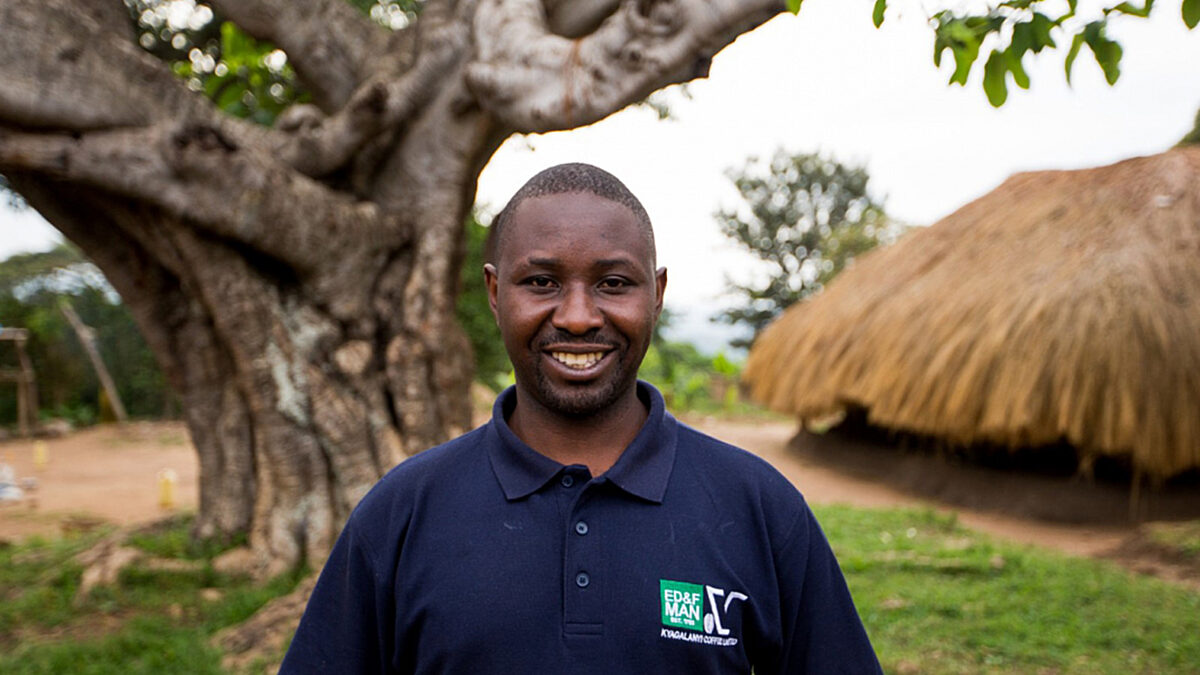 At a conference in the Netherlands, Volcafe's Emmanuel Bukomeko presented on efforts to end child labour in Uganda.
Volcafe colleague Emmanuel Bukomeko recently addressed a conference in the Netherlands on "Taking next steps to ending child labour in global supply chains" where his presentation was described as 'very inspiring' by Akky de Kort, the child labour expert at Dutch NGO Hivos. Emmanuel was presenting the work that our Ugandan coffee business Kyagalanyi is doing in West Nile to fight child labour and improve child education.
The conference brought together the Dutch Government, the International Labor Organization (ILO), which is the UN agency that promotes fair and decent work, with businesses, civil society organisations, employers' and workers' groups and former child labourers, to discuss challenges and share best practices to bring child labour to an end.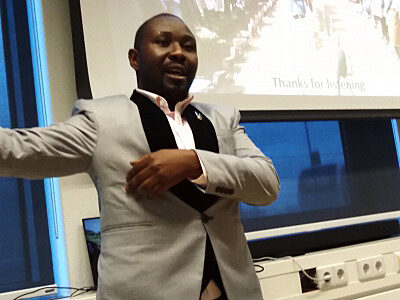 Emmanuel Bukomeko presents on the West Nile project.
ILO Director-General Guy Ryder called for a whole-of-supply-chain approach. He urged governments to address the root causes such as poverty, informality and insufficient access to education. "Today, 152 million children are still in child labour. The need to accelerate progress is obvious," he said. "The UN resolution declaring 2021 as the International Year for the Elimination of Child Labour is a tremendous opportunity to keep the momentum, and to accelerate action towards the achievement of zero child labour, in all its forms, by 2025."
Emmanuel works as manager for our West Nile Arabica scheme supporting over 6,000 smallholder Arabica-growing households offering agronomy training and access to a central washing station. The main aim is to help farmers improve the income they earn from coffee farming, making it a sustainable way to earn a living as well as securing long-term supply.
One challenge in West Nile is that many coffee farmers can't afford school for their children, or do not value education as they are often illiterate themselves. This is a problem since certification to international standards requires all children of school-age to be in school. Kyagalanyi worked with certification organisation Rainforest Alliance/UTZ and other partners to develop strategies to fight child labour including a change in monitoring child labour from zero-tolerance to an 'assess and address' approach, focused on prevention, engagement and improvement and going further than simple prohibition in its ability to drive long-lasting change. All our West Nile scheme farmers are UTZ-certified.
In May 2018, Rainforest Alliance recognised Kyagalanyi's commitment to sustainable development – and particularly its efforts to fight child labour – with a Sustainable Standard-Setter award. Kyagalanyi is the first coffee company in Africa to receive this prestigious award.

Emmanuel was invited to talk about this work at the conference as the Dutch government funds both the existing West Nile project and a new project to promote child education in the Rwenzori and Masaka regions of Uganda.
Emmanuel said, "I was honoured to be invited, and to be given the chance to talk about our projects at this important event. I screened the documentary film we made on West Nile Child Labour and talked about the child labour situation in Uganda, including why children are out of school and the monitoring systems and remediation strategies we use to address the problem.
"The audience asked me to explain the causes of child labour in different regions in Uganda, how we have been able to work in a coalition to address the problem, who owns the data used, the project's sustainability, the business case and the motivational factor for Kyagalanyi."
After the conference, and hearing he was in the city, Volcafe's contacts at JDE invited Emmanuel to speak to their staff about efforts to promote child education. JDE is a key partner on the new child education project. Their sustainability manager Nadia Hoarau-Mwaura, said that Emmanuel "touched their hearts" and promised to give full support to Kyagalanyi to fight child labour in their supply chains.
In the afternoon, Emmanuel visited Rainforest Alliance/UTZ, where he shared his experiences managing an UTZ scheme in Uganda. "I was delighted when UTZ changed the control point for child labour from zero tolerance to continuous improvement because that means I am able to work with households with child labour to eradicate it." He told the group.
Alistair Sequeira, our General Manager in Uganda, commented "We were very proud that Emmanuel was invited to this prestigious event, and that he was able to showcase the work we are doing. It's clear that his presentations were received seriously and positively by experts. This reflects well on our coffee business where we want to help our farmers do right in so many ways, not just for short term profit but for the better of the coffee business and for society."
Media contact
Volcafe
:
Marie Renou-Ullrich, Head of Marketing and Communications,
email hidden; JavaScript is required
Related news: