Kyagalanyi, Volcafe's Ugandan company, named 'Best Arabica Exporter'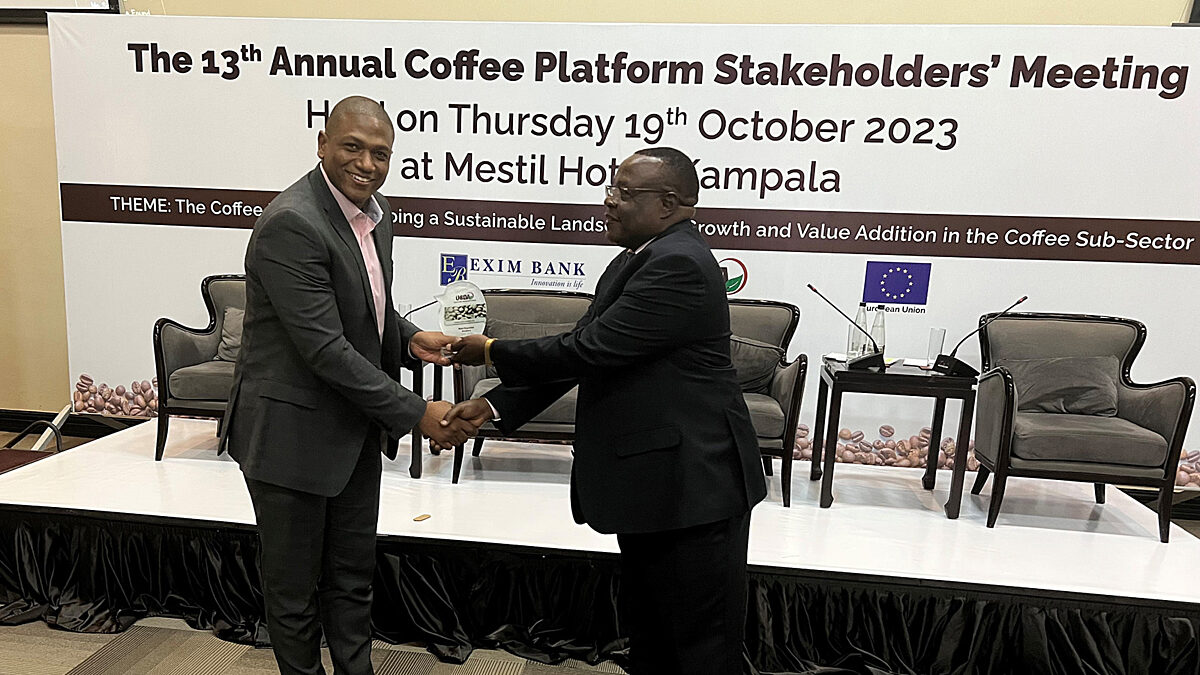 Kyagalanyi General Manager Jeremy Mpalampa receives the honour from an UCDA representative.
Our Ugandan company was recognised for its outstanding performance.
Kyagalanyi Coffee Ltd, part of Volcafe, was recently named the 'Best Arabica Exporter of the Year' in Uganda.
The honour was bestowed by the Ugandan Coffee Development Authority (UCDA) in October 2023 and recognised Kyagalanyi's achievement in shipping the country's largest volume of Arabica coffee during the crop year 2022-23.
'Being recognised as the top Arabica coffee exporter of the year fills us with immense pride,' said Jeremy Mpalampa, General Manager of Kyagalanyi. 'Our unwavering commitment revolves around sourcing the finest Arabica coffees, working hand in hand with farmers, and incorporating a sustainable approach throughout the entire supply chain.'
The UCDA is a government agency established in 1991. Its mandate is to promote, regulate and oversee the quality of coffee along the entire value chain, support research and development, promote production, and improve the marketing of coffee in order to optimise earnings for coffee stakeholders and the country.
Kyagalanyi Coffee Ltd, Volcafe's Ugandan company, was founded in 1992 and works directly with farming communities in key regions including Mt Elgon, Greater Rwenzori, and Greater Masaka.
Low-tech tool helps farmers embrace regenerative agriculture
Uganda
Printed calendars offer illustrated guidance on sustainable farming for thousands of coffee growers.
Read story
Ufanisi machine project
Tanzania
Tanzanian cooperatives are installing eco-pulpers with the help of a no-interest loan facility
Read story
A shared vision in Tanzania
Tanzania
A programme enables men and women to realise a personal vision for their lives and farms.
Read story
Media contact
Volcafe
:
Marie Renou-Ullrich, Head of Marketing and Communications,
email hidden; JavaScript is required
Related news: